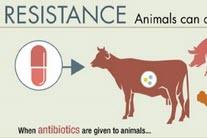 Walmart Pork Found To Have "Superbug" Bacteria Resistant To Antibiotics
A new study published by animal-welfare group World Animal Protection has arrived at some stunning findings about pork products begin sold at Walmart. 
The report , published by FoodDive, found that pork samples purchased from Walmart contained "superbug" antibiotic-resistant bacteria. 80% of samples tested from Mid-Atlantic Walmart stores were resistant to at least one antibiotic. Additionally, 37% of the...
---